A few EyeTV users have noticed crashing upon launching the application.
The common element is that they all have an older version of 3ivx installed.
3ivx is a QuickTime component that's involved in MPEG-4 playback.
You can find out what QuickTime components you have by visiting your Hard Drive/Library/QuickTime folder.
Open your Hard Drive, and find the Library folder.  In this example, our hard drive is named "Elgato", but yours may be named "Macintosh HD", or something else that you chose: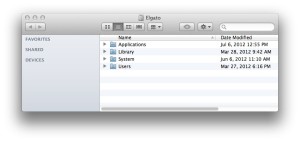 Open your Library folder, and find the QuickTime folder: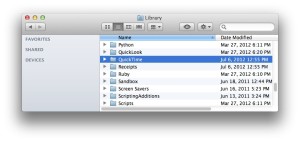 Open your QuickTime folder, and look at your QuickTime components: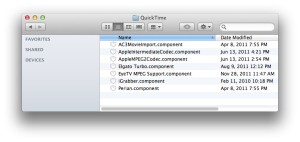 The list of QuickTime components will vary from Mac to Mac, depending on what Applications are installed.
If any of your QuickTime components mention 3ivx, then they can lead to this problem.
The problematic file may be called 3ivxVideoCodec.component.
---
Immediate Solution
---
Please update 3ivx to version 5.0.4, to resolve the problem.
http://www.3ivx.com/download/macos.html
Alternatively, you can uninstall 3ivx altogether – EyeTV doesn't need it at all to function.
Remove all 3ivx components, including called 3ivxVideoCodec.component, from the Hard Drive/Library/QuickTime folder.
Restart your Mac, and that should effectively uninstall 3ivx.