A few EyeTV products like EyeTV Hybrid (North America, 2009) and EyeTV Hybrid (International, 2008) have a tuner that can receive FM signals.  You can use an antenna, and in some cases cable TV service will also have rebroadcasted FM channels.
To detect channels, you need to use the Auto Tune process.  This is usually done via the EyeTV Setup Assistant, located in the EyeTV menu.  You can also detect channels at the bottom of the Channels section, where there are controls to select your Country and Service, and then to Auto Tune.  For your Service, choose Analog – FM Radio.  The tuning will take a few minutes, and will find all possible FM radio channels.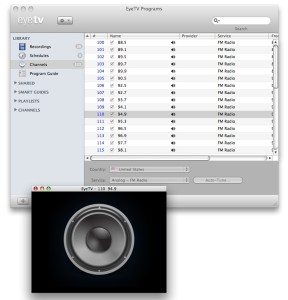 ---
Audio Format
---
Recorded radio in EyeTV is MPEG-1 layer 2 (MP2) – the same audio as you'd find with any analog EyeTV recording.
---
Export Format
---
Export options are limited to audio options, like for iTunes or AAC Audio.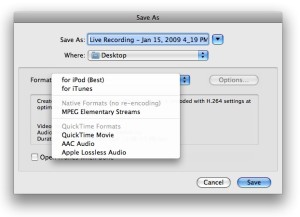 There is the usual QuickTime Movie option that gives you the full allotment of possible audio choices.  Press the Options… button to further adjust that QuickTime export selection.
---
Listening to Radio
---
You can select a FM radio channel to start listening to a live signal.
You can use the Live TV Buffer to pause and rewind FM radio.  You can also record starting at a point in the buffer.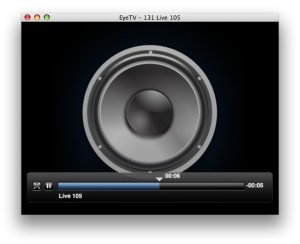 ---
Radio Recording
---
FM Radio does not have a Program Guide in EyeTV at this time.
You can schedule recordings manually.  Open the EyeTV Programs window, visit the Schedules section, and then press the New button.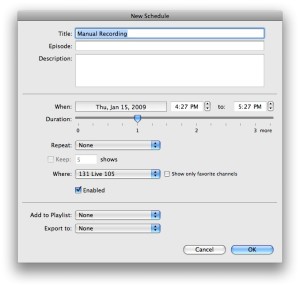 You can use the Repeat options to record your favorite shows – perhaps one is on Monday through Friday from 8:00AM to 10:00AM.
---
Radio Editing
---
The editor is a somewhat compacted view with no thumbnails. You see a black screen with the speaker icon, and the timeline/marker bar you're used to for EyeTV editing.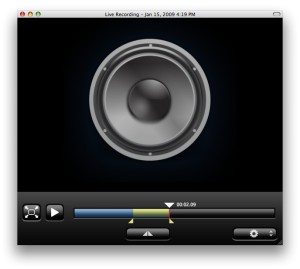 ---
Radio Tricks
---
Here are some ideas to get you started with using FM radio in EyeTV:
• You can record an hour of music, use the editor to export each song using for iTunes (or just export the whole hour), and then they'll be ready for synching to an iPod or iPhone.
• You can record something, select a bit in the editor, export it to AAC Audio, add it to GarageBand, make it a ringtone, and then put it on your iPhone.
• You can pause radio or timeshift back and listen to something you missed, and then record what you missed from the buffer.
• You can record from much as you want from any available station – up to 12 hours per recording.  Each schedule you make can be on whatever station you want, and EyeTV will automatically tune channels according to each scheduled recording.