EyeTV 3.1 introduces a new electronic programming guide for North American users: TV Guide, provided by Macrovision Solutions Corporation. The TV Guide EPG features:
•    14 days of guide data
•    Rich cast, ratings and genre information for many programs
•    Episode information for many series, enabling EyeTV's new Smart Series Guide feature
•    Pictures (coming soon)
One year of EPG service is included for new and all existing EyeTV 3 users in the United States and Canada. After that, an additional year of service is available for US$ 19.95.
For first time EyeTV users, TV Guide is the only EPG available in the Setup Assistant for the US & Canada.
---
Continuing to use TitanTV
---
Existing EyeTV 3 users who already have a TitanTV EPG setup and upgrade to EyeTV 3.1 may opt to continue to use TitanTV as their EPG provider.
At a later date, but no later than December 31, 2010, TV Guide will become the sole EPG provider for EyeTV.
---
Upgrading from TitanTV to TV Guide
---
To switch the EPG to TV Guide, please run the EyeTV Setup Assistant, including a new Auto Tune, to create your TV Guide account. This will clear your existing guide data and the download of the new TV Guide data will begin. To take advantage of the new Smart Series Guide feature, wait for the download to complete.
---
Using TitanTV.com for Remote Scheduling
---
Remote Scheduling is currently not available via TV Guide.   TVGuide.com does not have any integration with EyeTV at this time.
Users in the United States can use Remote Scheduling via a free TitanTV.com account. To create a TitanTV.com account, go to TitanTV.com and click the Signup link.
Then, select programs that you want to watch, by clicking on its name.

You will then see a floating window which offers the option to Remote Schedule.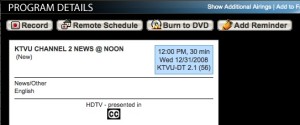 That option will save the schedule in a queue.  EyeTV will check that queue via the Remote Scheduling options in the Guide part of the Preferences.
---