Watch, pause, and rewind live TV on your Mac
Search the Program Guide using multiple criteria
Record one show or an entire TV series
Edit out unwanted content and create clips from your recordings
Export recordings to iTunes automatically for playback on an iPhone or iPad
Share recordings with other Macs on your local network
Stream live or recorded TV to an iPhone or iPad with the optional EyeTV app (available on the App Store for $4.99/ 4,99€/ £3.99 )
Watch live TV on your Mac
Turn your Mac into the coolest television in the house. Pause the TV show while you get a snack. Rewind and watch that great play again. Fast forward past the advertisements. Float the EyeTV window on top of other applications to keep an eye on your show while you work or surf the Web, and watch two TV windows Picture-in-Picture.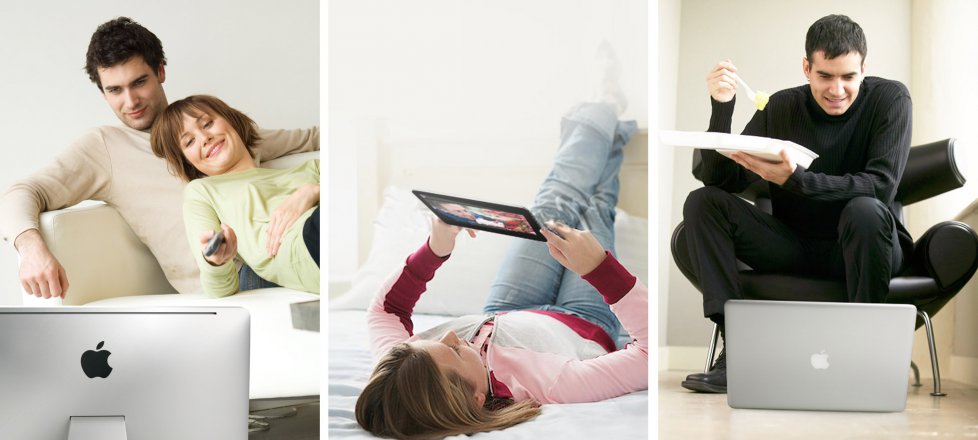 At your Desk or in the Living Room
Sit at your desk and navigate the resizeable window with a mouse, or go full screen and stretch out on the couch with an EyeTV or Apple Remote. EyeTV's gorgeous On Screen menu makes it easy to channel surf and move through the Program Guide and menus in the comfort of your living room.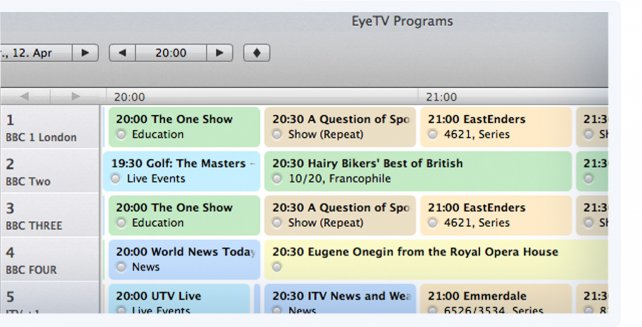 Integrated Program Guide (EPG)
EyeTV puts detailed and up-to-date TV listings at your fingertips. EyeTV's integrated Program Guide harvests the TV listings data contained in over-the-air digital broadcasts as well as online sources.
Save your Searches with Smart Guides
It's a breeze to search the Program Guide for shows you want to watch using multiple criteria and full text search terms. That means you can search for shows featuring your favourite actors, directors, topics, and even genre, and save each search as a Smart Guide.
Interested in a particular TV series? In one easy step you can create a special kind of Smart Guide, called a "Smart Series Guide", to search out all the upcoming episodes. It's easy to filter out the repeats to find the brand new episodes that you haven't seen yet.
Smart Guides and Smart Series Guides continually update to add shows to your saved searches as soon as they appear in the Program Guide. Note: Smart Guide features require a Gracenote or IceTV subscription.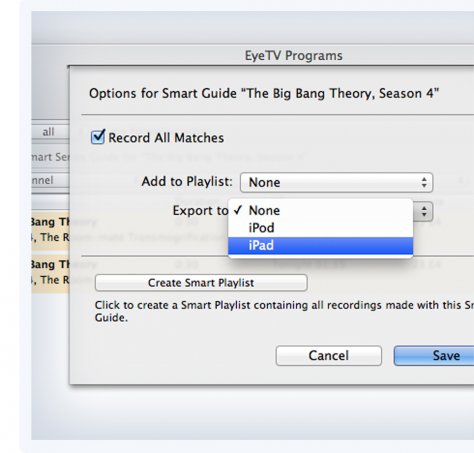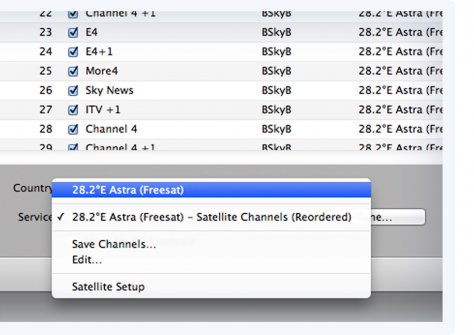 EyeTV provides detailed information about each television channel. Drag and drop the ones you watch most frequently into a "favourites" list, or go a step further and organise your sports, news, movie channels and more into their own lists. Each list of channels comes complete with matching Program Guide information.
If you travel frequently, you can save your channel list configuration for each location and easily switch between them with a click. No more re-auto tuning, renaming, or sorting channels after you've used your tuner in a different place.
Record the show you're watching
Is the show you started watching 10 minutes ago worth saving? No problem. EyeTV can record back to the beginning of the program from the live TV buffer and won't mind a bit if you pause, rewind, and fast-forward while you watch the rest of the show.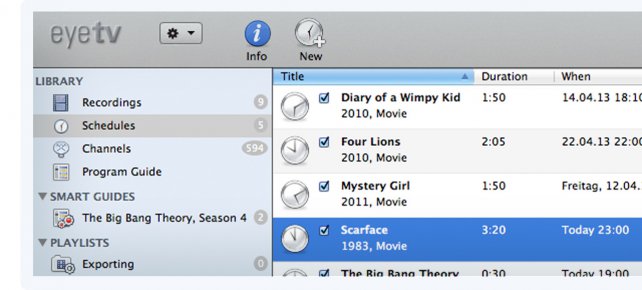 If you prefer to plan ahead, it's easy to create a Schedule to record upcoming shows. EyeTV will wake up or turn on your Mac automatically.
It takes just one click of a button to record your saved searches, or Smart Guides. Simply check the appropriate box in your Smart Guide.
When you click the Record All button, EyeTV creates a Smart Series Guide which will automatically record the entire season of that TV series. And EyeTV is smart; if you've already scheduled another recording at the same time an new episode is broadcast, EyeTV will automatically record it the next time that same episode comes on as a repeat. EyeTV will also set up a Smart Playlist for that TV series, and to save space on your hard disc you can tell your Smart Series Guide how many episodes to retain.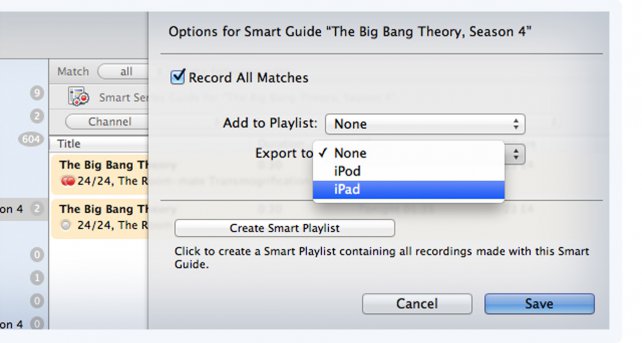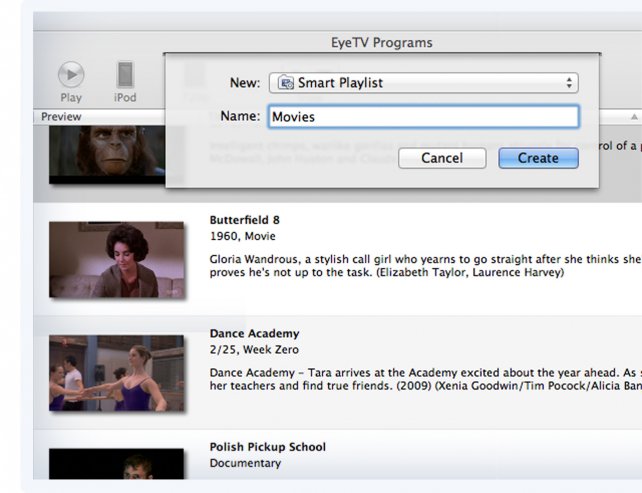 Organise your growing library of EyeTV recordings any way you like. File them by series and season, by artist, by genre – there is no limit to the number of Playlists you can create to store and find your recordings.
And to make things easy, you can tell EyeTV to do your filing for you. Simply create Smart Playlists to update in real time based on the criteria you choose. Or, set your recording schedule to go to a specific playlist automatically as soon as it finishes recording.
A Smart Playlist is created automatically whenever you set up a Smart Series Guide to record the entire season of a TV series.
Browse the EyeTV Library in List view or Cover Flow, or use Spotlight to search your recordings by name and description. If you have prepared recordings for iPhone access, then EyeTV even supports the Finder's QuickLook feature.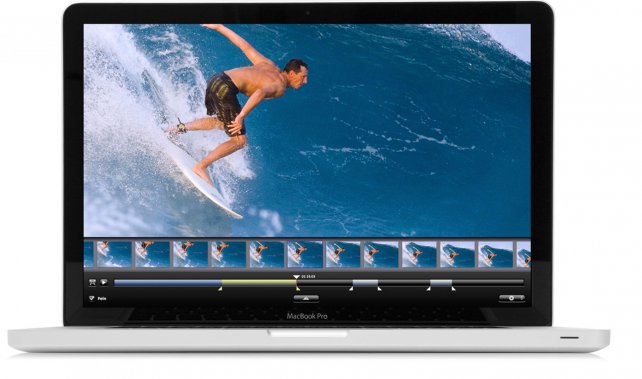 Use EyeTV's built-in Editor to remove unwanted content from your recording, or to crop the beginning and end of the show. The Editor also enables you to create one or more short clips from a longer recording and save the clips individually as new EyeTV recordings. If you're in a hurry, simply export video clips straight to your iPhone or iPad without saving them first.
Export to all important file formats
EyeTV enables you to export your recordings for post-processing in other Mac applications and professional video editing software, such as iMovie® HD, iDVD®, or DVD Studio Pro®. It offers a large variety of intelligent presets which selects the optimum export format for you, or you can chose the settings yourself. EyeTV also includes support for Sony PSP and other current media types & playback devices.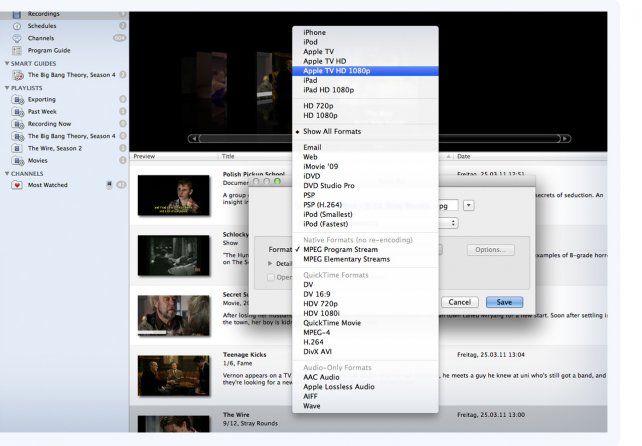 Build up your iTunes Library
Enjoy last night's late show on your iPhone or iPad during your morning commute. Watch some movies on your iPad during that long plane ride. Enjoy your own recordings on your widescreen television with an Apple TV. EyeTV can send your recordings to iTunes automatically for optimized playback on the Apple device of your choice.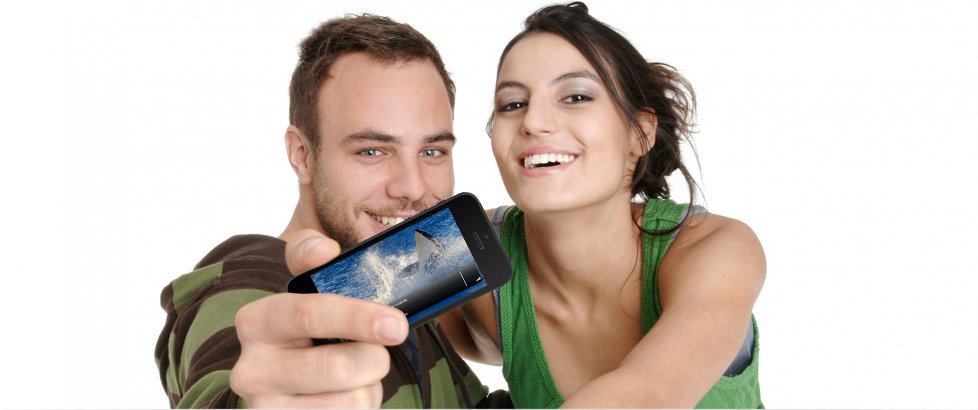 EyeTV records and plays Dolby® Digital sound, including 5.1 multichannel audio, where available. EyeTV also supports the digital optical audio output built into newer Macs and passes through Dolby® Digital 5.1 sound to home theater systems.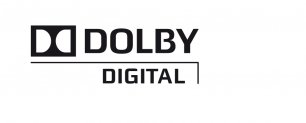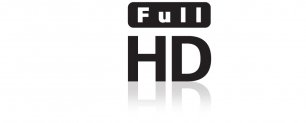 EyeTV is the only TV software that supports "Progressive Scan" for excellent picture quality, and it is capable of displaying full resolution HDTV on Macs with Intel Core Duo processors or dual G5 processors. EyeTV also supports closed captions as well as Picture-in-Picture (PiP).
To help parents protect their children from objectionable content, EyeTV supports Parental Controls. EyeTV supports the European DVB rating system as well as the rating systems used in the USA (TV and MPAA) and Canada (English and French).
With the EyeTV app for the iPhone, you can watch live TV and EyeTV recordings wherever you have a WIFI or 3G connection, whether you're around the corner at the coffee shop or travelling around the world.
The EyeTV software running on your Mac converts live TV to the correct format for streaming to the iPhone, ensuring optimal picture quality. Both EyeTV software and the EyeTV app use the HTTP streaming standard developed by Apple. This takes advantage of the iPhone's hardware acceleration to deliver the highest possible playback quality and longer battery life.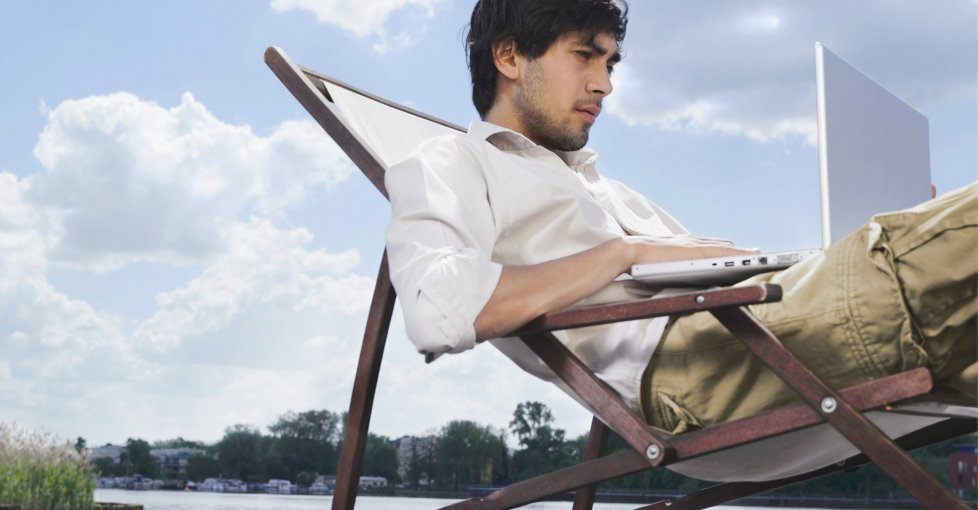 * Feature requires a Mac and is not available on a PC. EyeTV app availability in the App Store is subject to Apple approval and cannot be guaranteed.
Share recordings on a LAN or via Wi-Fi
If you've got more than one Mac in the house and EyeTV 3 is installed on all of them, then you can share EyeTV recordings over your local network. Shared libraries show up in the sidebar, and you can browse and play them in standard or HD resolution.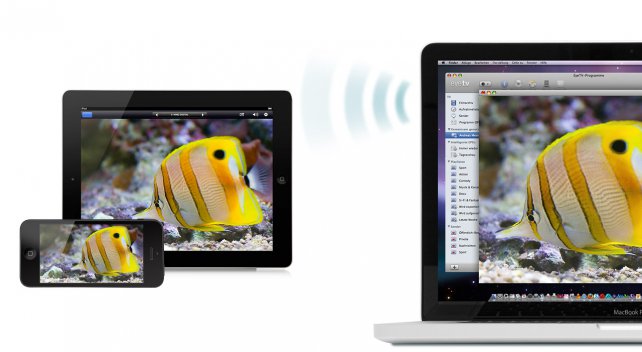 EyeTV now offers an integrated AppleScript menu. Combined with more robust script support, EyeTV gives advanced users even more control and flexibility to create custom applications.
System Requirements
OS X 10.9 or later.
a compatible TV Tuner
Compatible Peripherals
EyeTV Diversity
EyeTV Go
EyeTV Hybrid
EyeTV Micro (Europe)
EyeTV Netstream 4C
EyeTV Netstream Sat
EyeTV Netstream 4Sat
EyeTV Sat
EyeTV DTT (Stick)
EyeTV DTT (Cinergy T2)
EyeTV DTT Deluxe
EyeTV EZ
EyeTV HD
EyeTV Netstream DTT
EyeTV One
EyeTV USB
EyeTV Wonder USB 2.0
EyeTV 200
EyeTV 250
EyeTV 250 Plus
EyeTV 300/310
EyeTV 400/410
EyeTV 500
EyeTV 610
EyeTV Sat Free
HD HomeRun (North America)
Tivizen
Sat>IP Server